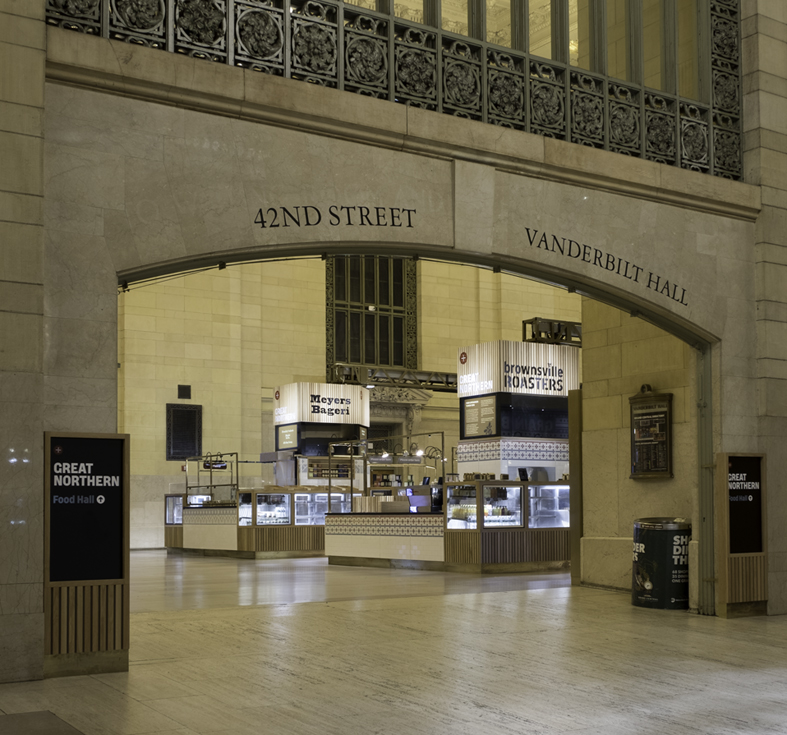 Vanderbilt Hall, Grand Central Terminal, NYC
Design by Christina Meyer Bengtsson and Ulrik Nordentoft, in collaboration with Richard H. Lewis Architect of New York.
New York is a city of layers. Peel back one layer and the history of a space can reveal how New Yorkers of a certain time period lived. This is particularly true in an iconic space like Grand Central Terminal, significant to the lives of millions of New Yorkers since it first opened in February 1913.
Over 100 years later, familiar spaces are finding new life. Great Northern Food Hall will once again make Vanderbilt Hall a gathering place, with pavilions serving everything from coffee to cocktails beneath 48-foot-high ceilings. The space survives today in part because of the preservation efforts of Jacqueline Kennedy Onassis. When Grand Central Terminal was under threat in 1975, Onassis spoke out to save the landmark. In a letter to New York City Mayor Abraham Beame she wrote:
"Is it not cruel to let our city die by degrees, stripped of all her proud moments, until there is nothing left of all her history and beauty to inspire our children? 
If they are not inspired by the past of our city, where will they find the strength to fight for her future?"
Vanderbilt Hall's rich history was on the mind of designers when conceiving ideas for the look of the Food Hall.
"We wanted to accentuate the beauty of the hall, its color scheme, and not interfere with its splendor, while still telling our story," says Ms. Meyer Bengtsson, who in partnership with Ulrik Nordentoft created the design in close collaboration with local architect Richard Lewis.
Graphic design was created by Søren Varming. Details such as white subway tiles nod to the history and function of the train terminal while other design accents show Nordic roots.
A reference to the New York City subway mosaics as well as a nod to traditional Scandinavian knitting patterns—found on sweaters, mittens, and hats—can be seen throughout the food hall in the form of red, light blue, and dark blue tiles.
Each pattern would hold a story; historically the wives of fisherman and farmers knit unique patterns that varied by region, country, and even village. Sadly, it was these patterns that often made it possible to identify where a man was from if he drowned at sea.
Furniture also has a Scandinavian aesthetic, including Arne Jacobsen's Grand Prix high chairs.
In a nationally landmarked building like Grand Central, preservation is paramount. No single screw could be mounted into the walls of Vanderbilt Hall; temporary pavilions and movable installations will leave no impact on the protected space. The design team turned to history to help achieve this; original design drawings of Grand Central from over a century ago were consulted during the Food Hall's construction.